Blog
Welcome to the OHP blog. Here, we'll post about topics related to HIV planning, including health equity, Planning Council business, and more. You can also browse through archived blog posts, dating back to 2010.
Nov. 5, 2019
In September 2019, the Comprehensive Planning Committee hosted a lively discussion about housing and implementation of different models. Their goal was to uncover what the Ryan White program can do to cut down on housing insecurity as a way to...
Nov. 5, 2019
Affordable housing is often a topic of interest within the confines of the Planning Council. The reason? There is forever a need for more affordable housing, especially since the homeless population has almost doubled "over the last five years ami...
Oct. 11, 2019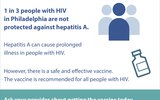 1 in 3 people with HIV in Philadelphia are not protected against hepatitis A. The Philadelphia Department of Public Health issued a health alert about a Hepatitis A outbreak in August. That outbreak is ongoing.
Join the Planning Council