Blog
Welcome to the OHP blog. Here, we'll post about topics related to HIV planning, including health equity, Planning Council business, and more. You can also browse through archived blog posts, dating back to 2010.
Oct. 11, 2019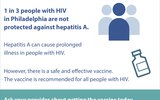 1 in 3 people with HIV in Philadelphia are not protected against hepatitis A. The Philadelphia Department of Public Health issued a health alert about a Hepatitis A outbreak in August. That outbreak is ongoing.
Sept. 20, 2019
Dr. Moore visited with the Positive Committee on Tuesday, September 10th to talk about the treatment for substance use disorder.
Sept. 10, 2019
Health equity means that all people have a fair opportunity for health. Different groups of people will require different resources and support to maintain and promote their health. Health equity means removing obstacles to health like poverty...
Join the Planning Council